PAC International completes Bell 407 upgrades for Haiti Air Ambulance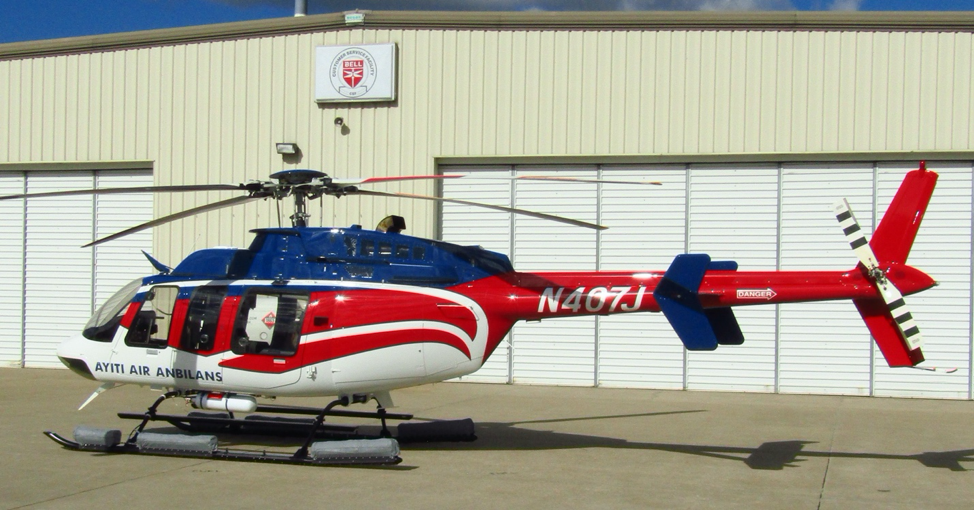 October 13, 2020
PAC International recently completed and delivered an upgraded Bell 407 to Haiti Air Ambulance, a leading provider of emergency medical helicopter services in Haiti.
Modifications provided by PAC include:
Spectrum Aeromed patient stretcher and base assembly with Lifeport pilot barrier and medical floor
Propaq, Revel Vent, and Bodyguard 121 IV pump mounts, 110 VAC shore power, overhead medical equipment track mounts, patient oxygen system, baggage compartment storage cabinet
NAT – dual AA95 Audio / ICS system, Garmin GTN650 & radio upgrades
TIL – TFM500 / RC500 FM communication system
Honeywell Sky Connect Tracker System
Artex ELT, DART emergency float system, coin mat crew flooring, various storage pouches, complete recovering of all interior seats, and full exterior paint
Haiti Air Ambulance (HAA/Ayiti Air Anbilans) is an organization dedicated to providing emergency medical helicopter services throughout Haiti. They are a 501(c)(3) non-profit organization dedicated to providing emergency helicopter services to the people and visitors of Haiti. HAA is the country's only service flying critically ill or injured patients to emergency medical care providers.
PAC International, a certified Bell Customer Service Facility, officially known as Paradigm Aerospace Corporation, is a subsidiary of Metro Aviation, Inc. PAC began operating in 1976 as Western Pennsylvania Helicopter Services, mostly servicing private operators of Bell helicopters in the region. Since then PAC has completed over 1,600 upgrades and new completions to a variety of Bell and Airbus helicopter models.