Metro Aviation and PAC International deliver and operate Bell 407 GX's for Tampa General Hospital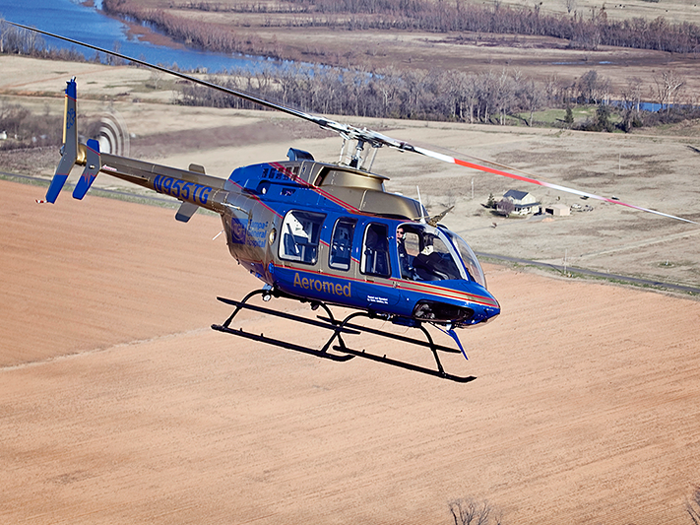 February 5, 2014
Tampa General Hospital's Aeromed program has received four Bell 407GX's from Paradigm Aerospace Corporation, a Metro Aviation Company. The aircraft will be operated by Metro Aviation, Inc. throughout the hospital system as replacements for the mixed fleet of Eurocopter products. Metro will continue to operate the hospital owned BK117-C1 from the main campus.
"As always, delivering these aircraft was a team effort," said PAC Director of Administration Dayna Cortazzo.  "The dedication and professionalism of our group and their willingness to go above and beyond is what continues to allow PAC International to deliver the high quality products we have been known and recognized for across the globe."
Tampa General Hospital's new aircraft are outfitted with North Flight Data Systems' Light Aircraft Recording System ("LARS"), HELISAS Auto Pilot, Synthetic Vision System and Night Vision Goggles.  "The medical configuration was designed from the perspective of our medical team," said Aeromed Nurse Manager John Scott.  "Sending the crew to PAC and involving them in the overall design gave them ownership of the aircraft and we are all very excited to begin operations in the new Aeromed fleet."
"To transition aircraft is a difficult task but this has been a pleasurable project.  The team at Metro and PAC are very supportive and understanding, and that has made this a completely painless process," said Scott.  "We were able to build an aircraft that can accommodate all of our missions and I am still waiting for someone to tell me something cannot be done.  So far, we have received nothing but support in all of our requests."
Aeromed transports critically ill or injured patients from 23 surrounding counties. When Metro began operating for Tampa General Hospital in August, pilots utilized the hospital's Eurocopter BK117 and three of Metro's spare EC135's. The new aircraft were completed at PAC's facility in Mount Pleasant, Pennsylvania and are the first Bell products operated by Metro Aviation in 25 years. 
"We are thrilled to have Tampa General in the Metro family and are looking forward to operating Bell aircraft," said Metro Director of Business Integration Todd Stanberry.  "This was a unique project that allowed both Metro and PAC to get involved and deliver great results to our customer."