PAC International upgrades EC145 for Allegheny Health Network's LifeFlight Program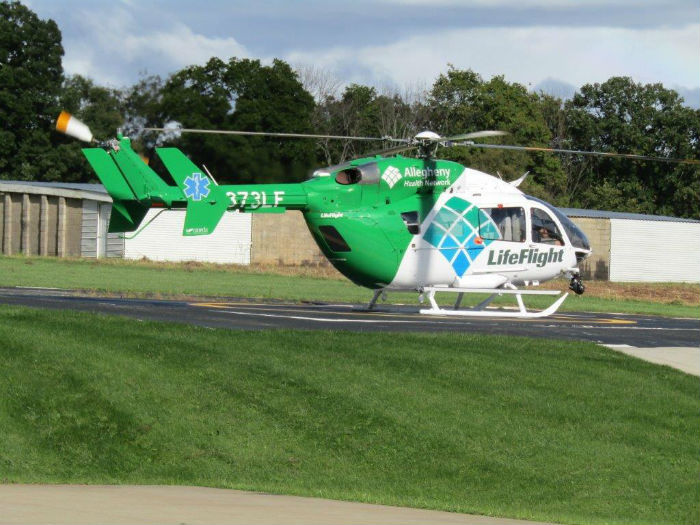 December 2, 2016
PAC International delivered a refurbished Airbus EC145 to Allegheny Health Network's LifeFlight program. The aircraft interior components were completely refurbished to include reconditioning of the Metro EMS interior, ADS-B and WAAS upgrades, and an update with Allegheny Health Network's corporate branding.
"The installation and painting of the aircraft from PAC was delivered on schedule, and we are extremely pleased with the work performance and the attention to detail," said Jim Palafoutas, Director of LifeFlight. "The workmanship is quite apparent when you see these helicopters."
The aircraft was also updated with the Outerlink IRIS flight tracking, monitoring and communication system. "This upgrade will allow tighter tracking of the aircraft and operational oversight by Metro's Operational Control Center," said Palafoutas.
LifeFlight is an operations customer of Metro Aviation, PAC's parent company, and provides regional emergency helicopter and critical care ground transportation services for critically ill and injured patients who need immediate specialized care.
Since the late 1970's, LifeFlight has completed more than 70,000 missions working side-by-side with EMS providers and community hospitals in a four-state area.
"For more than 25 years, we have customized and completed hundreds of helicopters, and put great emphasis on working with our customers to deliver the custom configuration they need and want," said PAC Director of Administration Dayna Cortazzo. "With safety and FAA certification as our primary guide, we strive to provide the desired equipment and configuration that these teams require in their commitment to saving lives, and we are proud to partner with LifeFlight and their team."
PAC International's capabilities include helicopter completion and customizations for Bell, Airbus, Agusta, Sikorsky, and MD Helicopters. They have established a reputation for providing state-of-the-art services in helicopter painting, custom interior fabrication, and avionics installations, and have a long history of providing customized medical interiors to meet the mission specific profile of their customers.